A modern marriage of classical
Chinese architecture and artisanship
Perception draws from the exquisite geometries found in traditional Chinese architecture. It features an exquisite hand-turned guilloché dial by China's only master of the craft, Cheng Yu Cai, alongside a custom extra-thin automatic movement. These are elegantly encased within a 904L steel case, with accompanying bracelet, that have been finished with immense attention to detail. It bears a striking contrast between the slimness of its case and the depth of the guilloché dial which defies physical perceptions.
Handmade métier d'art dials by China's
sole guilloché master craftsman
Delicate scales of
a dwindling art
The central element of Perception's dial is without a doubt the écailles de poisson guilloché by the workshop of Cheng Yu Cai, China's one and only master guilloché craftsman. The hypnotic interplay between straight and curved lines in the fish scale pattern is a celebration of light and shadow, and each dial has been meticulously hand-turned on a rose engine of Master Cheng's own design, taking a staggering 8 hours to produce.

The age-old intricacies of guilloché mean that there are fewer than 30 known masters of the craft left in the world. In the modern era, the difficulties of true guilloché have seen the vast majority of watch brands turn to more automated avenues such as stamping and CNC-machining, since engine turning requires enormous skill and any momentary slip or loss in concentration necessitates beginning all over again. Yet it is precisely in an unending quest for elusive, human perfection that we hope to preserve and celebrate the immense value of the craft.
Inspired by tradition, reimagined in the present
Perception's dial is not just about its guilloché element. Its complex 4-part construction is modelled after 榫卯 (sǔn mǎo), an ancient Chinese approach to building assembly. This form of construction features the extraordinary characteristic of being a friction-based assembly without the use of any nails or glue.

Exemplified in Perception, the dial comprises of a base layer upon which the guillochéd plate sits. Its indexes nest precisely into 12 cutouts, and are locked in place by an elevated chapter ring with a beautiful 回纹 (huí wén) pattern printed in Superluminova X1. Far from being merely decorative, this pattern has been specifically segmented to form the functional minute track of the watch.

Perception's hands are leaf-shaped, adhering to the lineage cast by one of the Porcelain Odyssey's defining design features, which suited the continuity of our brand's design language. They too have been lumed with Superluminova X1, and have been broadened slightly to suit the watch's sportier profile. The hands come in two variations: rhodium plated on the 缥 (Piāo) and 霞 (Xiá), and heat-blued on the 影 (Yǐng).

A composition of classical lines
The case of Perception is evocative of shapes found in Chinese architecture. The curved silhouettes of pagodas provide inspiration for its flanks, and the tops of its lugs feature subtler angles reminiscent of roof structures. These characteristics are amplified by the great care taken to accentuate the contrast between the applications of horizontal and vertical brushing, as well as the mirror-polished reliefs and chamfers that frame them. The use of 904L steel lends further emphasis to this visual impression here, possessing a greater lustre than its more common 316L counterpart.

Considering the dial's depth, Perception's case is impressively thin at just 9.4mm in total height, and thanks to the layering of its profile, it wears even thinner. Despite this, water resistance has not been compromised, withstanding depths of up to 10 ATM/100m.

It also features a double-domed sapphire crystal with 10 layers of anti-reflective coating, ensuring perfect transparency and readability.


The beating maw of a steely guardian
The semi-display caseback of Perception features window that doubles as the mouth of a deeply-embossed 石狮子 (Shí shīzi), or stone guardian lion; these being found at the entrance of most Chinese temples and major buildings.

When the rotor is aligned with the window, forming the lion's mouth, it appears to laugh in a stark contrast against the sobriety and almost brutalist character of the rest of the watch. And when the rotor swings the other way, the lion's mouth opens to reveal the watch's balance wheel as it oscillates away.

With the series inspired by traditional Chinese architecture, these guardian lions form a defining aspect of such structures, and its presence on our caseback is as symbolic as it is decorative. It represents a fitting motif of the protective casing that guards the intricate architecture of the dial, as well as the soul of the watch that is its movement.

This stylised representation of the stone lion was conceptualised by Liu Yuguan using cloud-like strokes to keep with the surreal identity of the watch as a whole.
An unbroken path of brush and shimmer
Like its case, Perception's quick-release bracelet is also crafted of the same luxurious 904L steel, forming a contiguous path that leads up to the watch itself. The bracelet's central links feature an uncanny asymmetry in their hexagonal shapes, and once more hark towards elements like rooftops and windows found in traditional Chinese architecture.

The same spectacular attention to finish has been paid here, with strong vertical brushing throughout that drops off into sharp, mirror-like chamfers along the edges. When flattened out, the bracelet resembles the aforementioned path of metal, flanked by the gleam of its chamfers. This path then breaks into its individual tiles on-wrist; each link reflecting light differently in a dazzling spectacle.
Concealed convenience on-the-fly
The bracelet on Perception is complemented by a fully custom clasp with an on-the-fly micro-adjustment mechanism that has been developed in-house. Made of no less than 29 parts, it is operated through a large, central pusher that is concealed behind our logo that adorns the middle of the clasp. This hidden mechanism allows the clasp to remain extremely sleek, and yet no less intuitive and satisfying to use, in-line with our aim of a seamless experience in utility. The bracelet's length may be adjusted by up to a half-link without it ever leaving your wrist.
An excellent, extra-thin automatic movement
The movements leave the factory at +/- 10s/d after being drop-tested and observed in hot, cold and ambient temperatures, as well as measured across 48 hours of continuous running. They are then further regulated in 5 positions, and sent in to China's top national research lab, the Horological Research Institute of Light Industry (HRILI) for further testing following assembly. Modified to accommodate a power reserve of approximately 41 hours, the SL1588 marks a significant improvement on Dandong's factory standard of +25/-15 and 38 hours.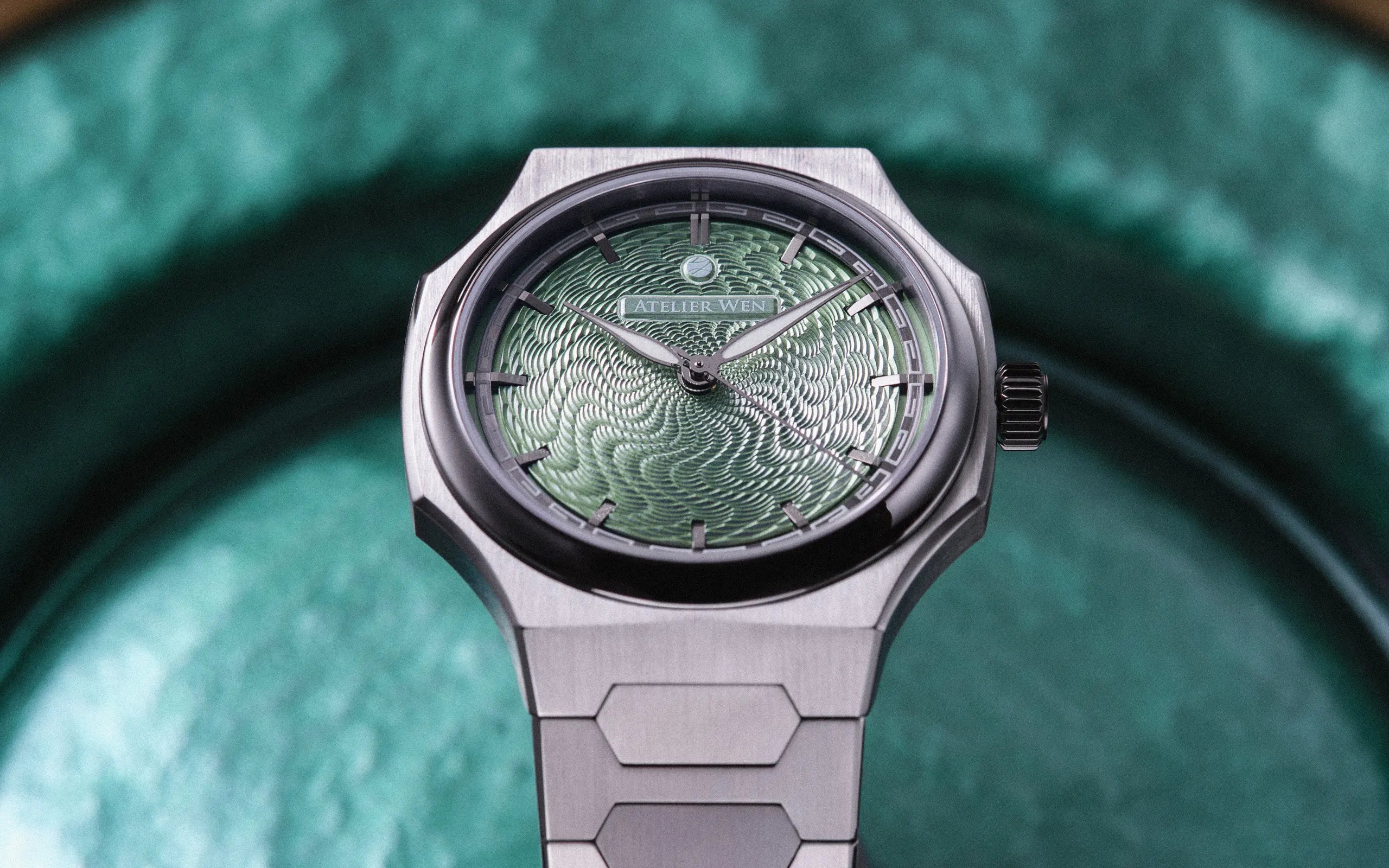 Variances in Perception
Our journey has led us to collaborate with partners who have brought new meaning and exposure to Chinese watchmaking.

The first collaboration, 传承 (Chuán Chéng), showcases Master Cheng's favorite guilloché pattern in a dignified jade green shade. Meaning "inheritance," it features a grade 5 Titanium case and bracelet, distinct from the regular editions of Perception. 传承 was created in partnership with Wristcheck, a renowned luxury watch retailer from Hong Kong, led by collector Austen Chu (@horoloupe), this limited edition of 100 pieces embodies the symbolic inheritance and fosters a new generation of Chinese collectors. Learn more about 传承 here.
Our second collaboration with Revolution, the industry's media and e-commerce leader, and its legendary founder, Wei Koh, gave rise to 禧 (Xǐ). This timepiece, also limited to 100 examples, features a vivid, vermillion circular basketweave design, perfectly capturing the celebratory spirit of joy and jubilation encapsulated in its name. Constructed with grade 5 Titanium, 禧 represents the resonance Revolution felt for Atelier Wen's mission to uplift and celebrate the underestimated capacities of Chinese artisanship and watchmaking. Discover more about 禧 in Revolution's article here.

We are immensely honoured and proud of these collaborations, which highlight the industry's belief in our Perception line and mission to celebrate Chinese watchmaking. Stay tuned for more unique editions to come!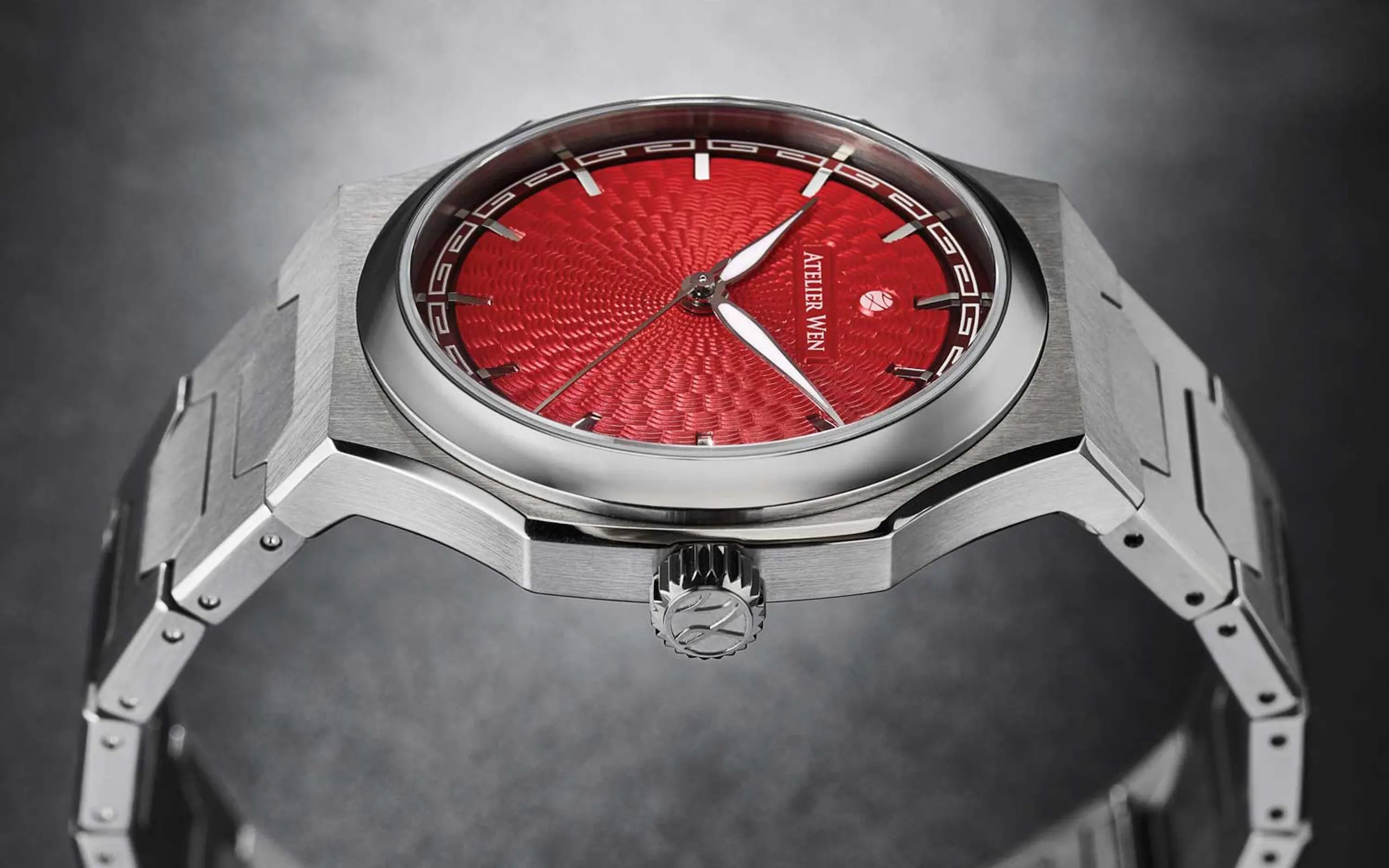 Technical
Specifications
904L stainless steel case with contrasting surfaces and exceptional attention to finish.
40mm (diameter) x 47mm (lug to lug).
9.4mm thickness.
Screw-down crown.
Water resistant to 100m/10ATM.
Handmade

guilloché

turned on a rose engine by China's sole

guilloché

master craftsman.
Applied rhodium-plated indices (heat-blued on Ying).
Hand-bent, rhodium-plated (heat-blued for the grey dial) leaf-shaped hands with Super-LumiNova® BGW9 (X1 grade) lume.
Double-domed sapphire crystal with 10 layers of anti-reflective coating.
Deeply embossed semi-display caseback with contrasting hammered

martelé

-texturing, sapphire glass semi-display window and 10 layers anti-reflective coating.
Customised 32 jewels extra-thin (3.3mm) Dandong SL1588 automatic movement, decorated in multiple finishes and adjusted in 5 positions and for temperature fluctuations, and tested exhaustively by the Horological Research Institute of Light Industry (HRILI).
Tungsten rotor with circular côtes de genève and black rhodium plating
904L brushed and tapered stainless bracelet with individually chamfered links, exceptional attention to finish and quick-release spring bars
Proprietary on-the-fly micro adjustment clasp with telescopic deployant blade system.