An aqueous porcelain, bled blue
Porcelain
Odyssey - Ji
Regular price
$695.00 USD
Regular price
Sale price
$695.00 USD
Unit price
per
Regular price
$695.00 USD
Regular price
Sale price
$695.00 USD
Unit price
per
The porcelain shimmer of
a storm-stricken sky
霁 (Jì) denotes a shade of rare blue derived centuries ago from lapis lazuli. It is one of two models in our Porcelain Odyssey collection, and draws on cues found in vintage French and Swiss chronometre watches. The result is a model brimming with a cultivated dignity, combining the elegance of its ancient craft with the polish of an ornate symmetry. Ji is a limited edition of 250 uniquely-numbered pieces. It is now sold out and will not be reproduced again.
A porcelain memory of Chinese watchmaking beginnings
With its mesmerising blue porcelain dial and applied rhodium-plated markers, Jì gives centre-stage to Chinese tradition and the artistic elements found within it. Often regarded as the most beautiful of blues, the colour Jì was said to resemble the sky in the aftermath of a storm, and only the finest porcelains were given the honour of undergoing a primary glaze in its deep hue, imparted by the use of cobalt oxide. The overall dial composition, as mentioned, draws from chronometre watches of the 40s and 50s, and this is no coincidence. In seeking to establish an initial aesthetic, our team chose to revisit the very beginnings of watchmaking in China where the very Chinese timepieces ever made, back in Tianjin in 1955, carried a strong influence from such chronometre watches. In-line with these historical pieces, Jì's circular and baton markers accent an outer "railway" or "chemin de fer" bordering the extremities of the dial. This feature was reimagined through the lens of our brand incorporating a Chinese pattern called 回纹 (huí wén)..

Jì's sub-dial at six o'clock is particularly intricate and pays homage to the Chinese concept of 八卦 (bā guà) or "Eight Trigrams"; an elemental demarcation of balance between the forces of yin and yang. It is used among other things as a traditional representation of time, with the four central characters, 坤 (kūn), 离 (lí), 乾 (qián), 坎 (kǎn)

The dial is surrounded by a circularly brushed rehaut that draws the eyes concentrically onto the immaculate surface of its porcelain, and is complemented with a handcrafted set of rhodium-plated leaf hands that combine with the applied indexes to stunning effect. The elements of Jì's dial are brought together elegantly behind a double-domed sapphire crystal with 5 layers of anti-reflective coating.

An exercise in restrained contrast
While the vast majority of modern watches are constructed of 316L stainless steel, not all steels are built equally, and even under the banner of 316L, the alloy's composition varies from source to source. It is for this reason that we chose to execute Jì's case in a specific composition of Japanese 316L steel, known for its more prominent lustre and higher resistance to corrosion. The case construction contains a mixture of finishing — with a delicate step on the edge of its mirror polished bezel for a touch of further refinement, and generously proportioned surfaces of fine brushing on its lugs to offer a restrained yet distinct contrast.

At 39mm in diameter and a wearable 11.7mm in thickness, it slips nicely under most cuffs whilst still offering up a substantial presence on-wrist, serving to draw the eyes in to the exquisite porcelain of its dial.

It features a well-knurled push-pull crown that is signed with a deep embossing of our logo.
A mythical embodiment of East and West
The case-back found on Jì is one of the most striking aspects of this collection. It represents a deeply-embossed figure of an animal of Chinese legend, the 鲲鵬 (kun peng). Said to be a colossal bird with the ability to turn into an aquatic being , it is used as an allegory for the concept of yīn yáng. Rather than being separate entities, kun and peng are simply two sides of the same element. And in much the same way, our goal with Atelier Wen is to break down the shallow dichotomies that draw trivial lines between East and West, and in doing so, combine the experiences of both to form a greater, more meaningful whole.

The finishing on the caseback has also been paid the utmost attention, with the stamping of the kun peng and its surrounding scenery executed in a fine sandblasted finish and accentuated by an almost indiscernible bevel of fine polishing that subtly amplifies the mural's depth.
A supple companion to your Jì
Jì comes by default on a high quality top-grain calf-leather strap with matching accent stitches and a custom, brushed tang buckle with a high-relief polished chamfer. On the underside, it is emblazoned with the Chinese idiom 乘风破浪 (chéng fēng pò làng), which translates to "ride the wind and break the waves", as a testament to our intent and ambition as a brand.

Jì also comes with three separate strap options as add-ons; a soft pearl grey Nubuck strap, a brown NATO-style strap in calf leather, and the unique textures of a blue salmon leather strap.
A heart of reliable refinement
The movement housed within Jì is a customised SL-3006 high-beat automatic mechanical movement with bi-directional winding. It has been modified to remove its date mechanism—such that it has no empty "ghost" position, and performs at an accuracy of +/- 10 s/d accuracy. While tucked away safely behind a closed case-back, it has nonetheless been well-finished with a mixture of perlage on its plates and Geneva-stripes and radial brushing on its logo—that has been deeply engraved with our brand's name.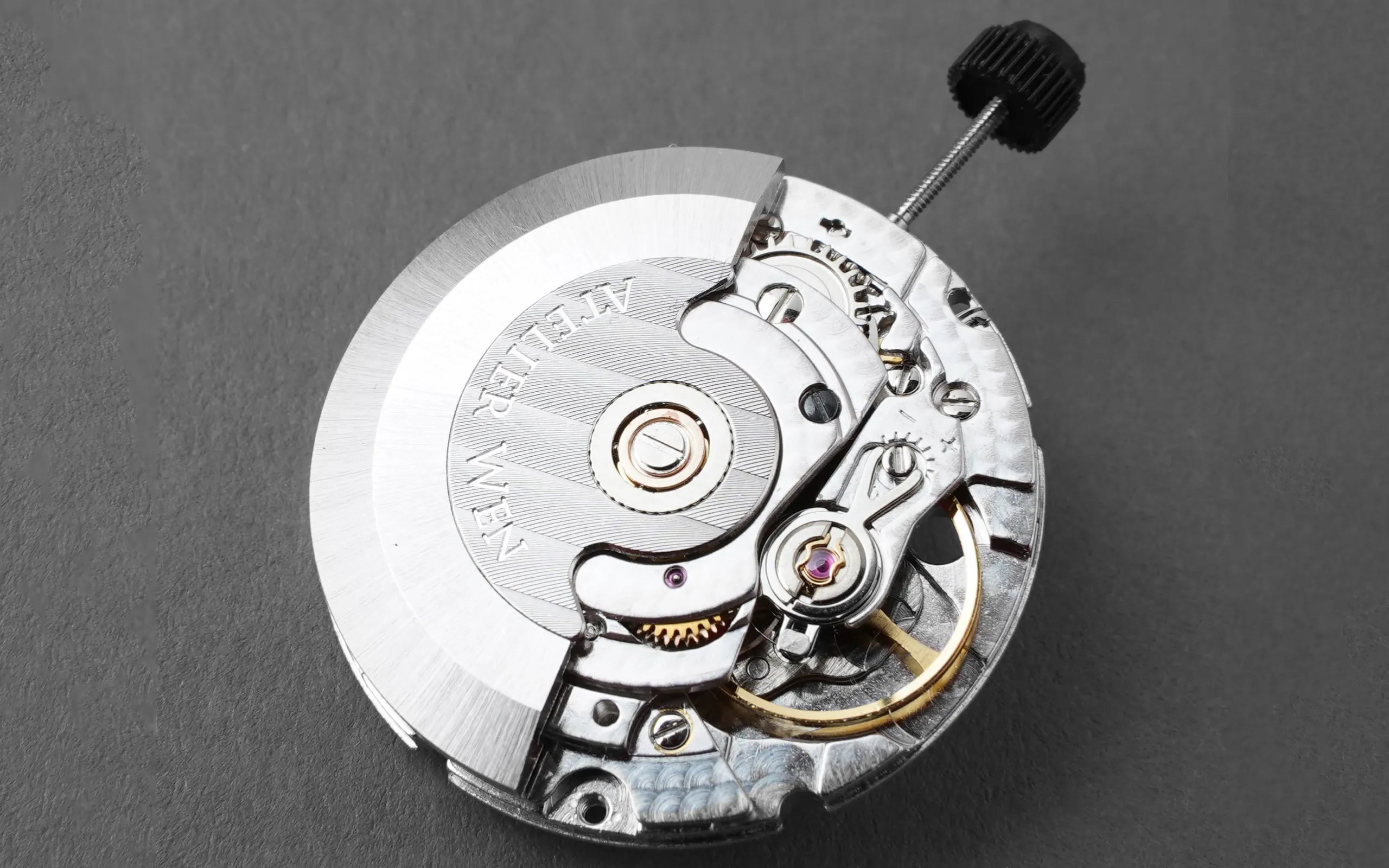 Technical
Specifications
- Japanese 316L marine-grade steel case with a mixture of brushed and polished surfaces
- 39mm diameter, 11.7mm thickness
- Deeply embossed closed caseback
- Blue porcelain with white markings, rhodium-plated hour dots, baton markers
- Matching rhodium-plated leaf hands
- Double-domed sapphire crystal, AR treatment
- Custom-made Peacock SL-3006 automatic mechanical movement, 41-hour power reserve
- Water resistant to 5 ATM
- 20mm lug width
- Blue calf leather strap default, salmon leather, brown leather, grey nubuck options