Chinese refinement in pure, porcelain sheen
Porcelain
Odyssey - Hao
Regular price
$695.00 USD
Regular price
Sale price
$695.00 USD
Unit price
per
Regular price
$695.00 USD
Regular price
Sale price
$695.00 USD
Unit price
per
An opalescent nod to age-old
porcelain traditions
皓 (Hào) denotes a white that is pure and without blemish, much like the porcelain dials of this model. It is one of two models in our Porcelain Odyssey collection, and draws on cues found in vintage French and Swiss chronometre watches. The result is a model strong in personality, harking back to the very beginnings of Chinese watchmaking, and yet possessing a subtle and elegant sense of refinement. Hao is a limited edition of 250 uniquely-numbered pieces. It is now sold out and will not be reproduced again.
A porcelain memory of Chinese watchmaking beginnings
The glossy white porcelain of Hào's dial pays tribute to famous 青花瓷 (Qing Hua porcelains) of old, so-prized for their milky translucence and elaborate decorative veneers of cobalt oxide that are fired at extremely high temperatures. Here, the semblance of these intricate patterns are reimagined through a raised print of numerals and a 回纹 (huí wén) pattern that is functionally incorporated to serve as the watch's minute track. The overall dial composition, as mentioned, draws from chronometre watches of the 40s and 50s, and this is no coincidence. In seeking to establish an initial aesthetic, our team chose to revisit the very beginnings of watchmaking in China where the very Chinese timepieces ever made — back in Tianjin in 1955 — carried a strong influence from such chronometre watches.

The petite seconde sub-dial at six o'clock further establishes the watch's Chinese characteristics, where the characters in the top left, 酉 (yǒu), and bottom right, 卯 (mǎo), represent the hours from 5PM to 7PM and 5AM to 7AM respectively. These have been redesigned by Liu Yi Guan with a gripping asymmetry, and make reference to an ancient time-measurement system called the "12 Earthly Branches" within which each branch represents a two-hour segment.

The dial is surrounded by a circularly brushed rehaut that draws the eyes concentrically onto the immaculate surface of its porcelain, and is complemented with a handcrafted set of heat-blued leaf hands that fit in with the refinement in the watch's overall aesthetic. The elements of Hào's dial are brought together elegantly behind a double-domed sapphire crystal with 5 layers of anti-reflective coating.

An exercise in restrained contrast
While the vast majority of modern watches are constructed of 316L stainless steel, not all steels are built equally, and even under the banner of 316L, the alloy's composition varies from source to source. It is for this reason that we chose to execute Hào's case in a specific composition of Japanese 316L steel, known for its more prominent lustre and higher resistance to corrosion. The case construction contains a mixture of finishing — with a delicate step on the edge of its mirror polished bezel for a touch of further refinement, and generously proportioned surfaces of fine brushing on its lugs to offer a restrained yet distinct contrast.

At 39mm in diameter and a wearable 11.7mm in thickness, it slips nicely under most cuffs whilst still offering up a substantial presence on-wrist, serving to draw the eyes in to the exquisite porcelain of its dial.

It features a well-knurled push-pull crown that is signed with a deep embossing of our logo.
A mythical embodiment of East and West
The case-back found on Hào is one of the most striking aspects of this collection. It represents a deeply-embossed figure of an animal of Chinese legend, the kun peng (鲲鵬). Said to be a colossal bird with the ability to turn into an aquatic being , it is used as an allegory for the concept of yīn yáng. Rather than being separate entities, kun and peng are simply two sides of the same element. And in much the same way, our goal with Atelier Wen is to break down the shallow dichotomies that draw lines between East and West, and in doing so, combine the experiences of both to form a greater, more meaningful whole.

The finishing on the caseback has also been paid the utmost attention, with the stamping of the kun peng and its surrounding scenery executed in a fine sandblasted finish and accentuated by an almost indiscernible bevel of fine polishing that subtly amplifies the mural's depth.
A supple companion to your Hào
Hào comes by default on a high quality top-grain calf-leather strap with matching accent stitches and a custom, brushed tang buckle with a high-relief polished chamfer. On the underside, it is emblazoned with the Chinese idiom 乘风破浪 (chéng fēng pò làng), which translates to "ride the wind and break the waves", as a testament to our intent and ambition as a brand.

Hào also comes with two separate strap options as add-ons; a soft pearl grey Nubuck strap, a brown NATO-style strap in calf leather, and the unique textures of a blue salmon leather strap.
A heart of reliable refinement
The movement housed within Hào is a customised SL-3006 high-beat automatic mechanical movement with bi-directional winding, based on the ever-reliable ETA 2824 architecture. It has been modified to remove its whole date mechanism — such that it has no empty "ghost" position, and performs at an accuracy of +/- 10 s/d accuracy. While tucked away safely behind a closed case-back, it has nonetheless been well-finished with a mixture of perlage on its plates and Geneva-stripes and radial brushing on its logo—that has been deeply engraved with our brand's name.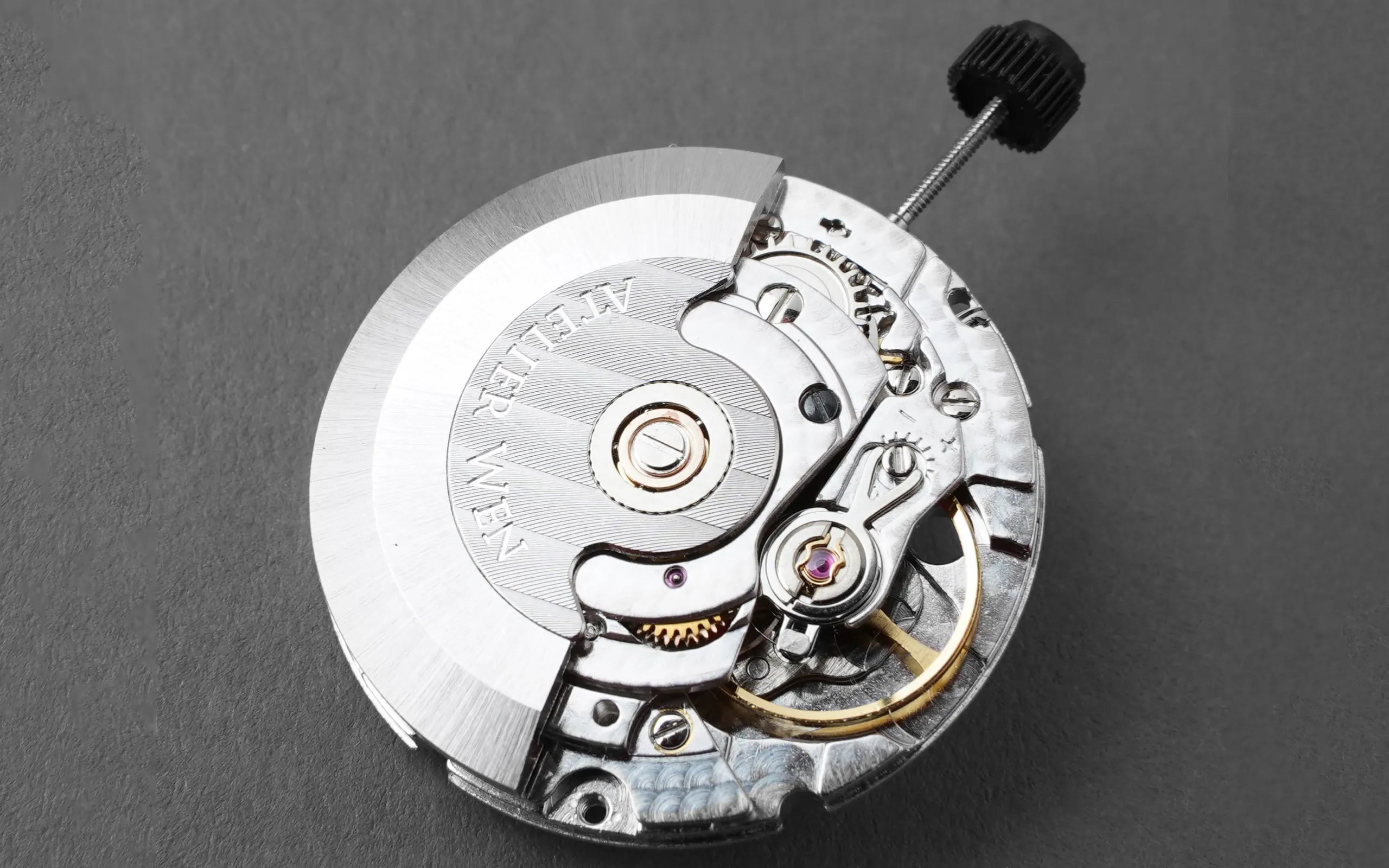 special editions
Hào also comes in three additional and extremely limited variations; of red, green and purple. The alternate colour-ways were paired with rhodium plated hands for the red and green, and heat-blued ones on the purple. These were confined to runs of just 25 pieces (for the red and green) and 15 pieces (for the purple), and are in fact so rare that neither founder has any of the three in their personal collections! Like the base model, they too will never be produced again.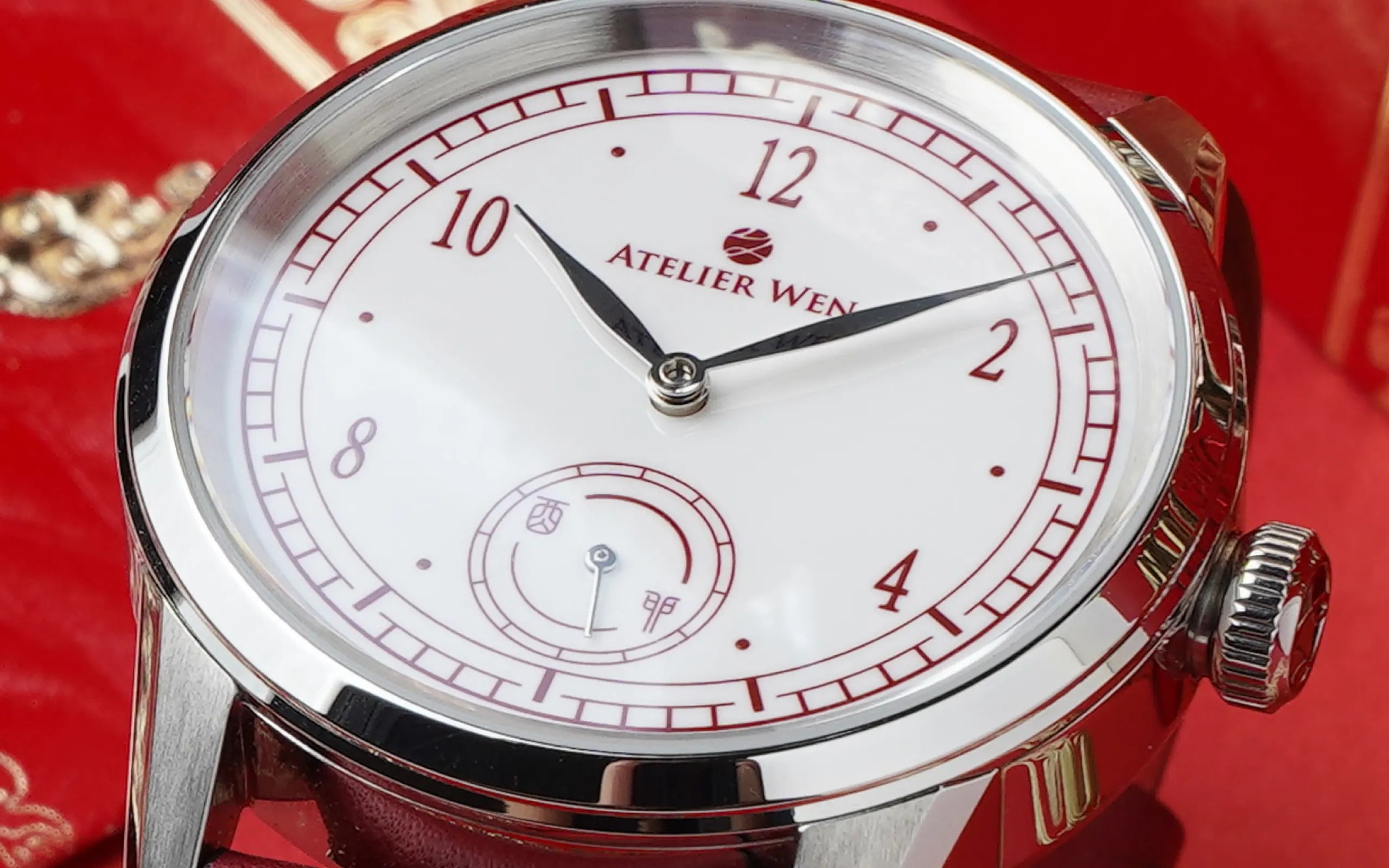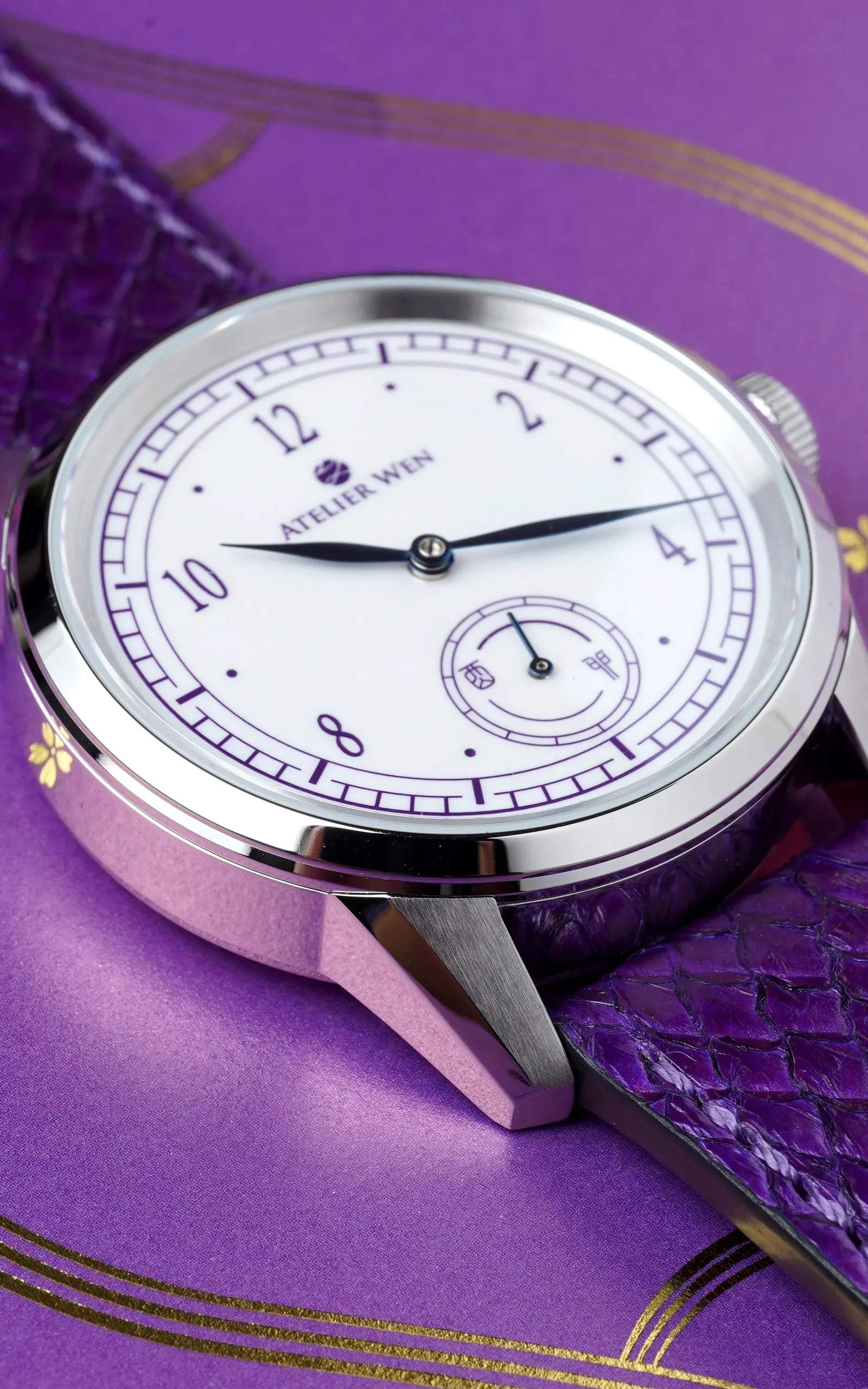 Technical
Specifications
Japanese 316L marine-grade steel case with a dynamic mixture of finely brushed and polished surfaces.
39mm case diameter, 11.7mm thickness (including crystal).
20mm lug-width.
Water-resistant to 50m/5ATM.
Alabaster white porcelain with blue pad-printed markings in the style of Chinese Qinghua ceramics.
Heat-blued leaf shaped hands with rounded, three-dimensional mirror surfaces.
Double-domed sapphire crystal treated with 5 layers of anti-reflective coating.
Deeply-embossed, closed caseback with Kun Peng motif, sand-blasted texture and subtle polished accents.
Customised Dandong Peacock SL-3006 automatic movement with 41-hour power reserve.
Top-grain blue calfskin leather strap (by default), with salmon leather, brown leather and grey nubuck options.